Investor Information
[TIME TO DIE-VERSIFY!!]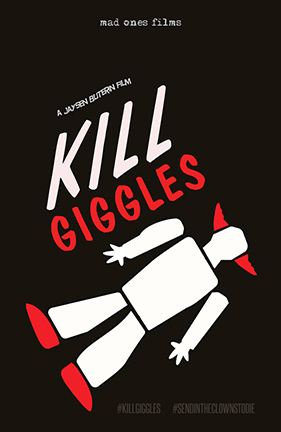 Kill Giggles is a story, a screenplay, and soon to be a feature film like no other. And yes, while many filmmakers may say that, especially within the realm of horror, we at Mad Ones Films actually mean it for one very simple reason: no one has ever done this before… literally. Oh sure, everyone has seen and heard the stories and movies where the monsters and/or the serial killers either are, or dress up like clowns to commit their mayhem, murder and misery.
In case you've either forgotten, or blocked it from your memory cause of the terror, here is just a PARTIAL list from the last few years of clown carnage:

It (BOTH versions); Halloween (BOTH versions); 31; Clown; Stitches; Gacy; Amusement; 100 Tears; We All Scream for Ice Cream (Masters of Horror); American Horror Story: Freak Show; Killer Clowns from Outer Space; Killjoy; Clownhouse; All Hallows Eve; Prank; Vulgar; Terrifier… just to name a few.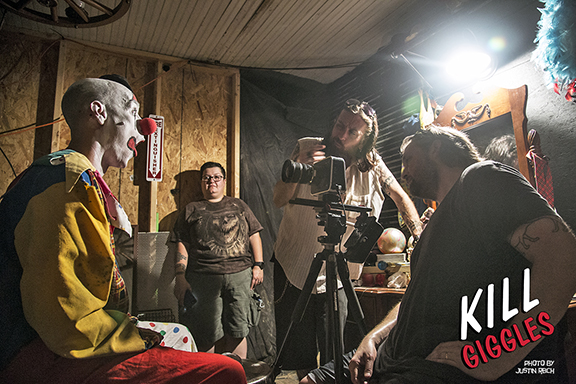 But what we have done is to take a timeless terror trope and turn it on its rainbow wig-covered head, by telling the tale of a serial killer OF clowns instead. Kill Giggles is the story of Tommy dos Santos, who wasn't born a psychopath, but he wasn't made a sociopath either. Tommy is something entirely new, and he's walking his own path—a path that will run red with the blood of the foulest most fiendishly frightening creatures ever conceived by man… clowns.
While the cameras and the clown heads won't start rolling until we've reached our budget goal, we've already set a lot of wheels in motion to hit the ground running. To give investors and audience members a taste of the thrills and chills to come, Mad Ones Films has put together "Killing Giggles," a proof-of-concept extended first scene of the film to give you a cinematic sense of the look and feel of the movie we can make together!
It's Hitchcock meets Kubrick: it's horror, it's thriller, it's surreal psychological sensationalism. It's the trifecta of scary movies… and all to a circus soundtrack.Because while all the world may love a clown, no one ever said it had to be alive.
We're Mad Ones Films. We are the inmates running the cinematic asylum right here in Greensboro, North Carolina. We've made award-winning short films on an aglet of a shoestring of a budget for some time now. Over the last four years, our last four short films combined have screened at almost 100 film festivals around the globe and garnered 28 awards. Three of our most recent short films have secured broadcast and distribution deals, exposing them to a worldwide audience we only dreamed of.
We've made independent movie magic time and time and time again with next to nothing—now we're asking for just a little more to make something truly spectacular! And that's where YOU come in!!! You see, we don't care if you've got more money than you know what to do with AND you hate clowns!! Or even if you have fistfuls of cash and actually, for some very bizarre reason that you might want to get checked out, LOVE clowns!?! Because either way, we want YOU to join our circus!! We're looking for private investors to complete the first phase of our fundraising before moving on to the second phase, which will involve a massive crowdsourcing campaign.
Next summer, it's time to send in the clowns… to die.
(For any questions, concerns, or obnoxiously large donations, please email Jaysen Buterin).