The synopsis
[SEND IN THE CLOWNS TO DIE...]
Tommy dos Santos wasn't born a psychopath, really, nor was he made into a sociopath, per se. He is something entirely new, and he's walking his own path – a path that will run red with the blood of the foulest most fiendishly frightening creatures ever conceived by man… CLOWNS!
No longer the madmen and monsters that nightmares are made of, it is the clowns who are the victims now, running for their lives from a killer who won't stop until every single one of them is dead. As Tommy's body count rises, he finds himself getting closer and closer to what he thought was a ghost, the once great clown king known as "Giggles," and wonders… if laughter can't die, how about Giggles?
Next summer, it's time to send in the clowns… to die.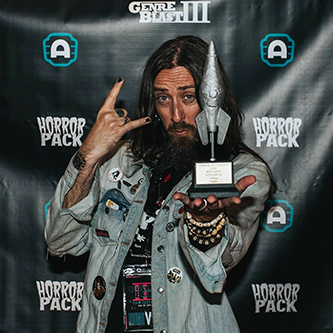 About the Writer/Director
Everyone has seen and heard the story of the maniacs, the monsters, the serial killers who dress up as clowns to spread fear and terror. But what if there was a serial killer OF clowns, terrorizing them with fear instead? From the mad movie-making mind of writer/director Jaysen Buterin ("The HPJ Trilogy," "Between Hell and a Hard Place," "Don't Let the Light In," "The Corner") comes KILL GIGGLES, a harrowing Hitchcockian horror story that will take a timeless terror trope and turn it on its rainbow wig-covered head.
With over 13 award-winning short films under his belt, Buterin is ready to face one of his worst nightmares. No…, not his first feature, but rather the floppy-footed foul fiends who will be starring in it.
"I'm absolutely terrified of clowns, I have been almost my whole life," says Buterin. "Conversely, I've loved movies for just as long, if not longer, so I thought what better way to exorcise the demons?" And with that, the idea of killing Giggles was born.
While the cameras (and the clown heads) won't start rolling until 2019, Mad Ones Films has already put together a plethora of promotional stills, posters, teasers and trailers until that happy time happens. Because, while all the world may love a clown, no one ever said it had to be alive.