Investor Information
[Help Mad Ones Films Send in the Clowns to Die!!!]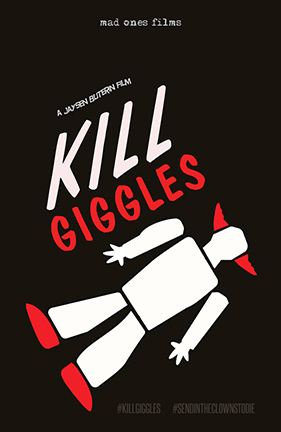 There's an old saying that goes, "all the world loves a clown," but some North Carolina filmmakers have decided to add their own little caveat to it: "no one ever said it had to be alive." From writer/director Jaysen Buterin comes Kill Giggles, a Hitchcockian horror/thriller that completed principal photography in Greensboro, NC in July of 2019. Inspired by Buterin's own coulrophobia (extreme fear and/or hatred of clowns), he wanted to turn the tables on a timeless terror trope by telling a story of a serial killer of clowns, as opposed to a mass-murdering maniac who just dresses up like one.
Buterin settled on the concept of writing a horror/thriller hybrid where someone with extreme coulrophobia of their own goes around killing clowns, who for the first time on film, play the victims. This allowed him to make a movie where he could face up to his fears and explore the way his mind twists normal, kind, human clowns into terrifying man-shaped monsters.
In case you've forgotten, or blocked it from your memory cause of the terror, here is a partial list from the last few years of clown carnage films that have done the same thing over and over and over again:

It (BOTH versions); Halloween (BOTH versions); 31; Clown; Stitches; Gacy; Amusement; 100 Tears; We All Scream for Ice Cream (Masters of Horror); American Horror Story: Freak Show; Killer Clowns from Outer Space; Killjoy; Clownhouse; All Hallows Eve; Prank; Vulgar; Terrifier... just to name a few.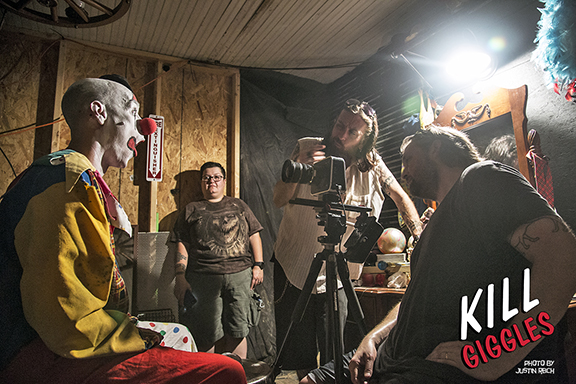 What we have done is to take a timeless terror trope and turn it on its rainbow wig-covered head, by telling the tale of a serial killer OF clowns instead. Kill Giggles is the story of Tommy dos Santos, who wasn't born a psychopath, but he wasn't made a sociopath either. Tommy is something entirely new, and he's walking his own path—a path that will run red with the blood of the foulest most fiendishly frightening creatures ever conceived by man... clowns. No longer the madmen and monsters that nightmares are made of, now it's the clowns who are the victims, running for their lives from a killer who won't stop until every single one of them is dead.
THERE IS STILL A CHANCE TO INVEST IN THE FILM AND BECOME A PART OF HORROR MOVIE HISTORY!!! Currently we have raised $25,000 of their budget and are still looking to raise additional funds to help finish paying for crew, labor costs, and for post-production. This will enable us to make THE BEST possible film for Avail Films, the distributor, to take to market to sell worldwide. With today's streaming and online demand, we feel that they are in a unique and prime position to take advantage of the current market.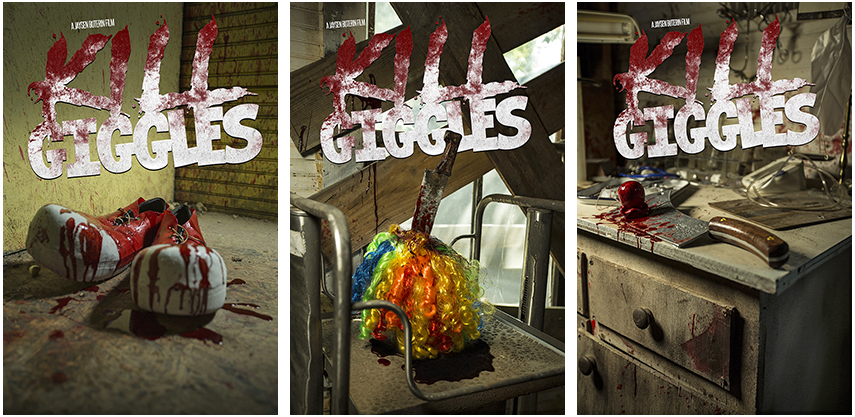 Kill Giggles stars talented North Carolina local actor of stage and screen Michael Ray Williams (Knob Goblins, Echoes, Between Hell and a Hard Place) as unhinged clown killer Tommy dos Santos, alongside indie scream queen Ellie Church (High on the Hog, Harvest Lake, The Bad Man) as Eden di Prima, someone with her own clown skeletons in the closet. The pair were supported by genre legends Vernon Wells (Commando, Mad Max, Weird Science), Felissa Rose (Sleepaway Camp) and Judith O'Dea (Night of the Living Dead) as well as Patrick G. Keenan and Nereida Velazquez.
Kill Giggles... it's Hitchcock meets Kubrick! It's horror, it's thriller, it's surreal psychological sensationalism. It's the trifecta of scary movies... and all to a circus soundtrack. It's time to send in the clowns to die!!
We're Mad Ones Films. We are the inmates running the cinematic asylum right here in Greensboro, North Carolina. We've made award-winning short films on an aglet of a shoestring of a budget for some time now. Over the last five years, our last four short films combined have screened at over 125 film festivals around the globe and garnered more than 30 awards. Four of our most recent short films have secured broadcast and distribution deals, exposing them to a worldwide audience we only dreamed of.
We've made independent movie magic time and time and time again with next to nothing—now we're asking for just a little more to make something truly spectacular! And that's where YOU come in!!! You see, we don't care if you've got more money than you know what to do with AND you hate clowns!! Or even if you have fistfuls of cash and actually, for some very bizarre reason that you might want to get checked out, LOVE clowns!?! Because either way, we want YOU to join our circus!! We're still looking for private investors to become a part of our movie magic-making team so that we can complete the last phase of production as well as ensure a smooth and hassle-free post-production process.
It's time to send in the clowns... to die.
(For any questions, concerns, or obnoxiously large donations, please email Jaysen Buterin).